East B7 walks for the scholars
Golf for a Cause
East B golfers Jun Farcon, Rolly Maramo, Pabling Manalo, and Jojo Solis played golf and walked for a scholar at Sun Valley Golf Club, Antipolo. They donated 2K each to rise funds for a scholar. Bro. Rolly Maramo emerged as the champion in their round of golf held last October 21.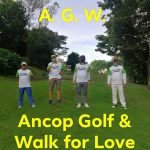 Benefits of the Education Sponsorship Program (ESP) of ANCOP
Here are testimonies from ANCOP Scholars from East B4 on how ANCOP has supported them in their studies and life in general. Furthermore, read on the inspiring stories of our SFC members as they volunteer to tutor the students in Cornerstone.
East B1 walks for the scholars
CFC walks for the scholars